Safe use of Hydrogen as a carrier gas
Sion Technologies' patented Ultimate Carrier Solution (UCS)
introduces a groundbreaking technology to the analytical industry, finally allowing labs to safely use Hydrogen as a
carrier in GC & GC/MS applications by burning all excessHydrogen gas, split chemicals and fully controlling the supply of carrier gas to GC and GC/MS.
Improved Analysis. Significant cost savings
UCS-2000 is an attachment device to all Agilent available GC
systems enabling laboratories to enjoy the full benefits of
Hydrogen using their existing Agilent equipment, introducing
significant cost savings and efficiency improvements while
operating in a safer and more environmental friendly way.
The UCS-2000 completely eliminates the release of
hazardous gases and chemicals during analysis and saves
more than 95% of carrier costs.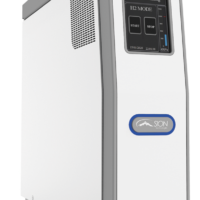 Safe and reliable
Hydrogen supply
UCS2000 eliminates dangers associated with Hydrogen
by saving 50% of the analysis time
Continuous, effortless
operation
works 24/7/365, without requiring ongoing maintenance or consumables
completely eliminates the release of hazardous chemicals.
95% cost savings compared to using Helium
Frequently asked questions about the UCS
Full control of the supply of carrier gas

Electronic selection of alternative carrier gas

Automated protection against flame-off, power loss, low gas supply, pressure, flow and more

Complete separation between the burner and control units for extra protection

Touch screen panel

Connect up to 2 injectors to one UCS