Safe use of Hydrogen in GC and GCMS
Sion's patented Ultimate Carrier Solution (UCS) introduces a groundbreaking technology to the analytical industry, finally allowing labs to safely use Hydrogen in GC & GC/MS applications by burning excess Hydrogen gas, split chemicals andfully controlling the supply of carrier gas to GC and GC/MS.
Improved Analysis. Significant cost savings
UCS-1000 is a one-of-a-kind add-on to analytical instruments enabling labs to enjoy the full benefits of Hydrogen, introducing significant cost savings and efficiency improvements while allowing labs to operate in a safer and more environmental friendly way. It eliminates the release of hazardous gases and chemicals during analysis and saves more than 95% of carrier costs.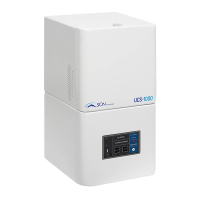 Safe and reliable
Hydrogen supply
The UCS1000 eliminates dangers associated with Hydrogen as a carrier gas
By shortening analysis time and working with the best carrier gas
Continuous, effortless
operation
Works 24/7, without requiring ongoing maintenance or consumables
completely eliminates the release of hazardous chemicals.
95% cost savings compared to using Helium as a carrier gas
Frequently asked questions about the UCS
Full control of the supply of carrier gas

Electronic selection of alternative carrier gas

Automated protection against flame-off, power loss, low gas supply, pressure, flow and more

Complete separation between the burner and control units for extra protection

Touch screen panel

Connect up to 2 injectors to one UCS